Hello all,
As you might know, Block One of EOS had their big announcement today. They spoke about various things, improvements in EOS, making things faster, using Yubi-keys, integration with Coinbase, all cool stuff, I'm still very excited about EOS and will probably buy more soon.
But then they also announced the new social media called Voice.
Huge disappointment


This basically says it all. I could end the post right here.
..
..
But I won't, I had a brief interaction with none other then the Big Dan himself on the telegram. And straight from the horses mouth he told me point-blank that I would have to doxx myself to get on the Voice platform.
I was indignant and pointed out to him that I had a powerful voice on Steemit, and that no one thinks I'm a bot there, and I never had to doxx myself.

And if you visit the site: https://voice.com/
you can confirm the same:
Are you a human?
If so, you're ready to make a profile! We use a special authentication system to make sure every user on Voice is an actual person. No robo-mobs. No catfish. No burner accounts.
Also
Geographic Restrictions on Voice token eligibility and participation may apply.
Lovely, geographic restrictions. Is there some reason we are kissing the governments ass? What was the point of crypto-currency again? Someone remind me.
And sure, I could sign up to Voice with my normal "John Smith" identity and talk about...I don't even know, what I ate for breakfast? How boring. I don't want to doxx myself.
Voice seems to be similar to Steem, except there is no staking or power, you just get tokens from others voting on you and can spend tokens to push your comments up. So there is no particular reason for me to stock up on Voice tokens anyways.
Loan platform?
Would I be able to use Voice as a loan platform? Very unlikely it seems. It would not be allowed for people to turn over their accounts to me as collateral.
In Steem I can be Superman

(pic from https://superman.fandom.com)
In Voice, I'm forced to be Clark Kent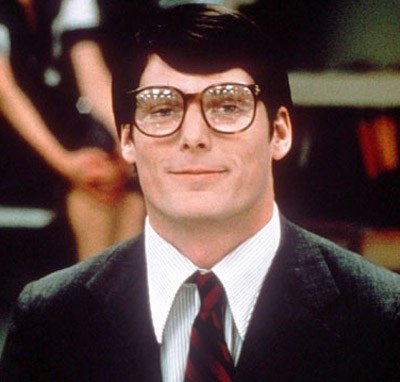 (pic from https://therationalmale.com)
The choice is obvious.
Long Live Steem!
And we were so worried about the "EOS Steem Killer". This is actually good news for Steem, time to buy more Steem, really.
I understand Steem has problems
Look I get it, the bots and Trolls in Steem are annoying, Steem has problems that need solving, but is it necessary that we take a 180 and go to such extremes, like requiring everyone to doxx themself? Dan went in the wrong direction here. You are never going to have a perfect system, there is always going to be some problem, you just need a good system.
Steem is a good system and things are improving lately (Mira, wallet split, Steem Keychain...with more to come)