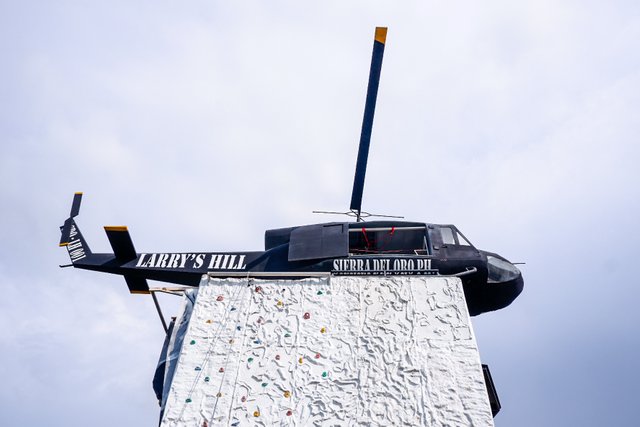 [1/400 secs @ f/8.0, ISO 100, 19.7 mm]
Hello steemians!
Segway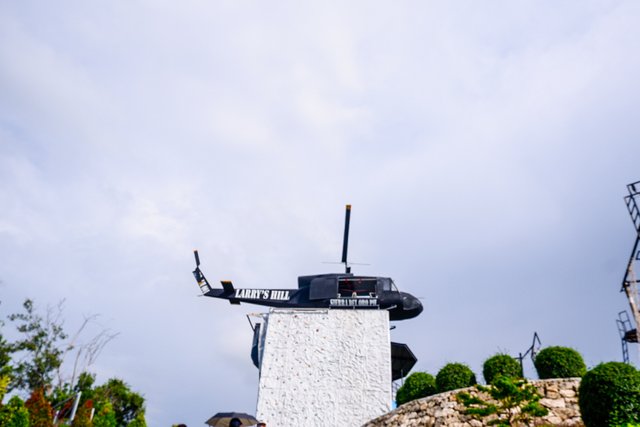 [1/400 secs @ f/8.0, ISO 100, 19.7 mm]
I was conceptualizing a new series of posts aside from Kim's Quest since 2018, but I couldn't think of anything that could be of relevance. If everything would be about myself, then there's no point of having a new series that could bring something of value to this platform. So I was in a deep thought on what this new series would be, but nothing came out.
A year passed and the focus shifted. When the last hardfork(s) were rolled out, changes in voting behavior prompted also a change in my posting behavior. As I am grateful for the support of the community, I became more focused on making sure that my posts pass the quality standard that I set for myself which was probably stricter than for anyone else.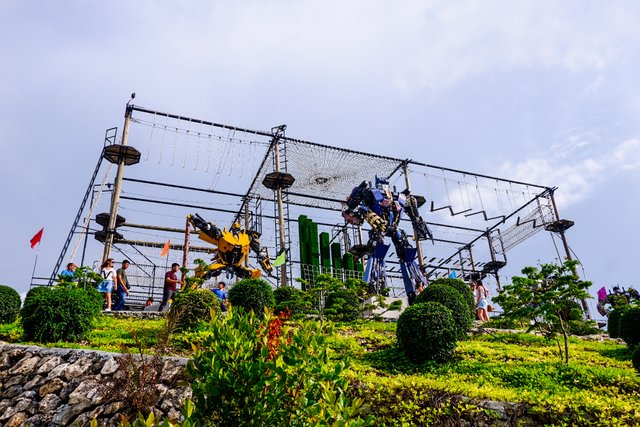 [1/400 secs @ f/8.0, ISO 100, 19.7 mm]
As I became more conscious of my posts, they became more about the place I've been than about myself (with a few exceptions of course). Majority of my travel posts were from Cebu and its surrounding provinces, but I feel like there's still a lot of things to cover in Cebu. That's when it came to me that my new series would be all about Cebu!
As I will be the first to do this (probably because I am the only one who has been so active here), it will be more of an experiment. It will still be in a travel format, but in a more detailed manner. If you feel like you've already known Cebu, then wait until my first post for that series.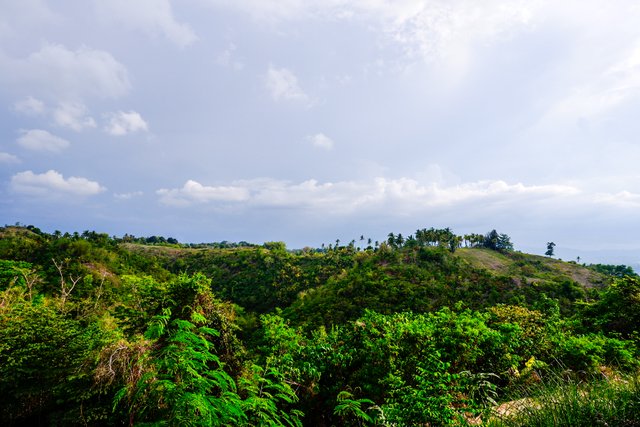 [1/400 secs @ f/8.0, ISO 100, 15.0 mm]
As I'm still finalizing the details of the series, I will be posting the remaining travels of 2019 that were not uploaded yet. In the mean time, please enjoy a travel post that's not about Cebu.
---
Main Post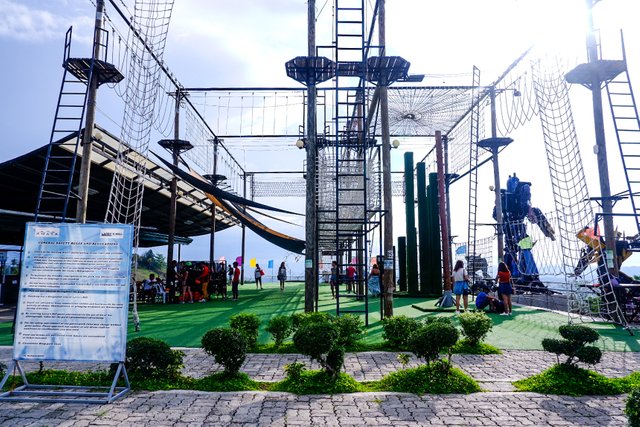 [1/400 secs @ f/8.0, ISO 100, 15.0 mm]
If you're still here, thank you for bearing with me in that segway. As for this post, it's about an adventure playground that's located on top of the hill in Cagayan de Oro City. Larry's Hill is the second area that was developed at Sierra del Oro after Hugo Sky Lounge. Located in Barangay Indahag, Cagayan de Oro City, the whole attraction boasts an overlooking view of the city.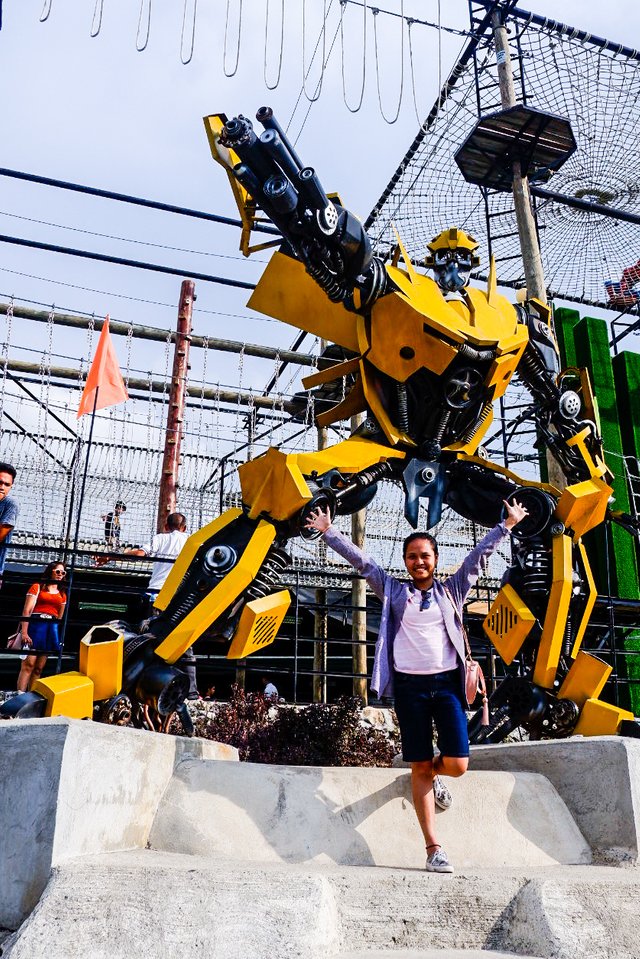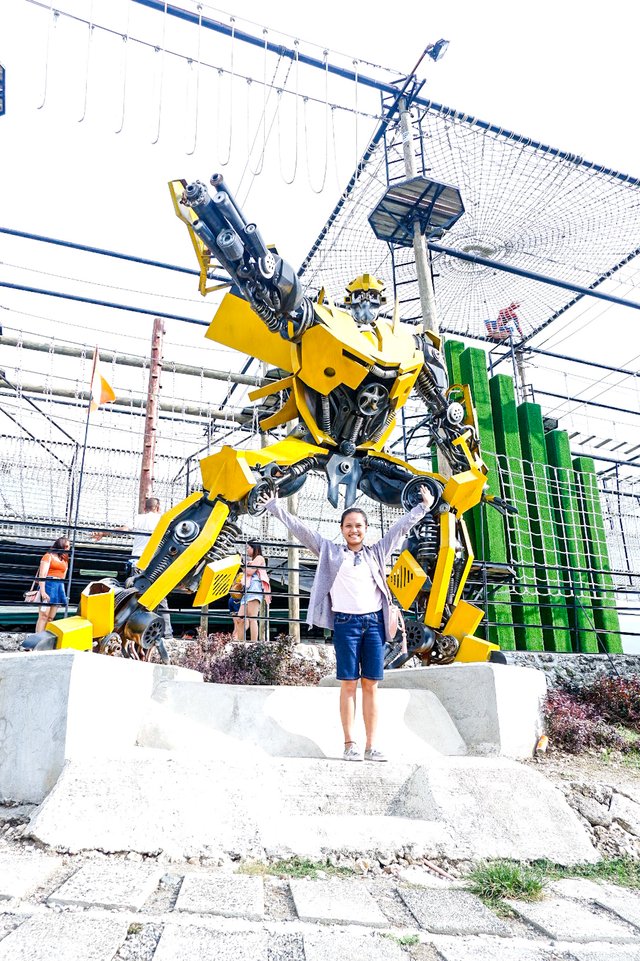 ---
[1/400 secs @ f/8.0, ISO 100, 15.0 mm] | [1/400 secs @ f/4.0, ISO 1000, 15.0 mm]
Notable features of Larry's Hill are those Transformers Autobots Optimus Prime and Bumblebee structures. Another notable feature is the Huey helicopter that is perched above the wall climbing structure.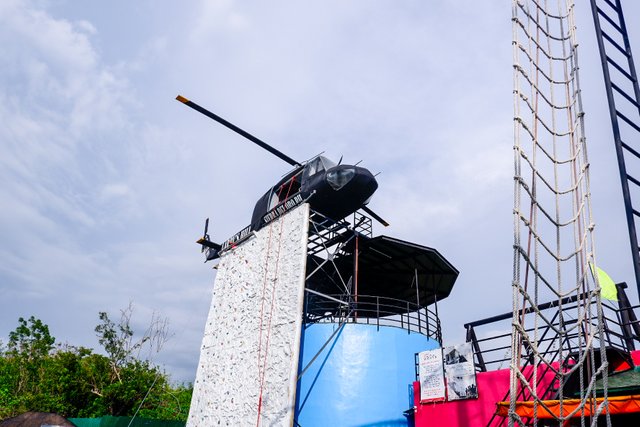 [1/400 secs @ f/8.0, ISO 100, 15.0mm]
If you love thrill and adventure, regardless of what level, I bet Larry's Hill has something for you. They have the largest Ball Pit in the world where the children and children at heart can play. Wall climbing and rapelling is also in their list. High and low ropes, maze, bungee trampoline, and zip line completes their list of activities to for you to try.
Wall Climbing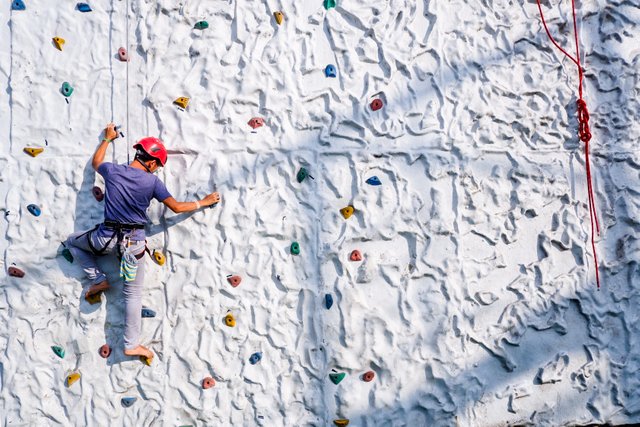 [1/400 secs @ f/8.0, ISO 100, 15.0 mm]
I got excited with wall climbing so I decided it first. I haven't tried that before so I didn't know what to expect. When I was younger, I climbed trees and even tried climbing the cliff above the river in our province without any harness or safety gear. With those experiences, I was a little bit confident that I could reach the top with ease. I'm not afraid of heights so I knew it would be fun.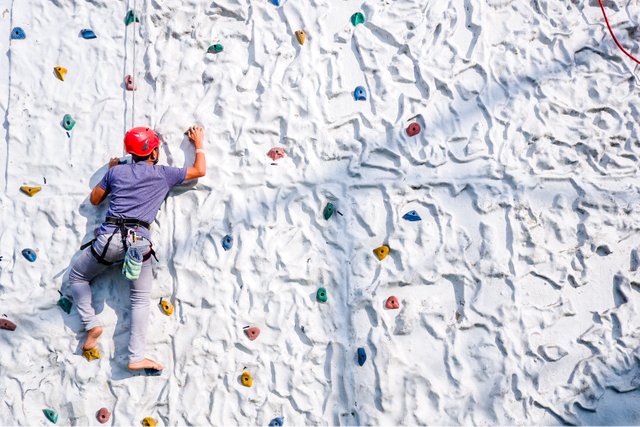 [1/400 secs @ f/8.0, ISO 100, 17.5 mm]
Under the heat of the afternoon sun, I started to climb but I didn't expect that it would take too much strength as I go higher. Without exercise nor a little warm up, I reached the top slightly exhausted. I never knew there was a second wall - a more difficult one to climb - which was part of the ticket that I paid.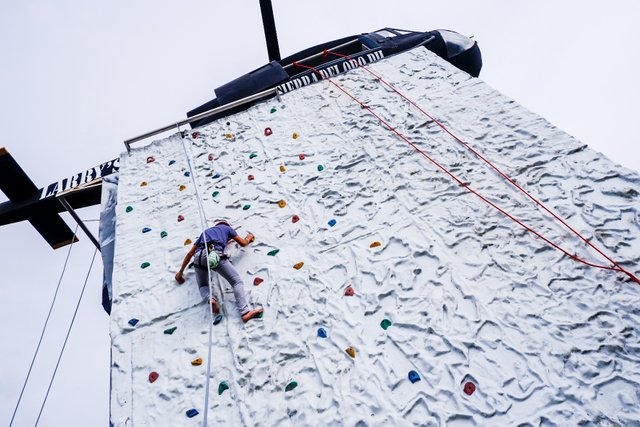 [1/400 secs @ f/8.0, ISO 100, 15.6 mm]
On the second wall, I didn't finish until the top because my hands became really numb. I still had low and high ropes to try. I wanted to enjoy everything that I paid so I stopped 3/4 of the way to the top.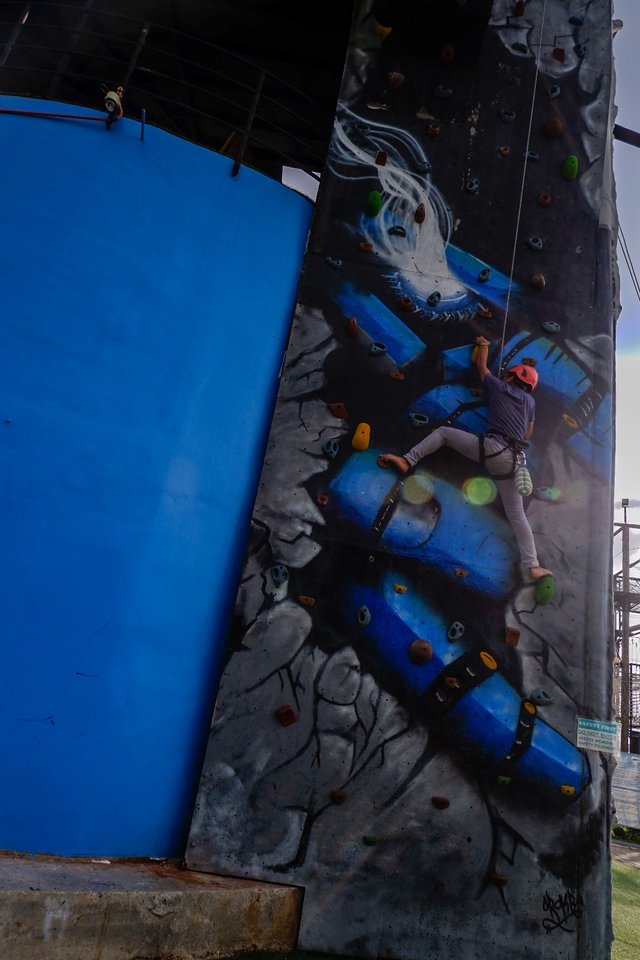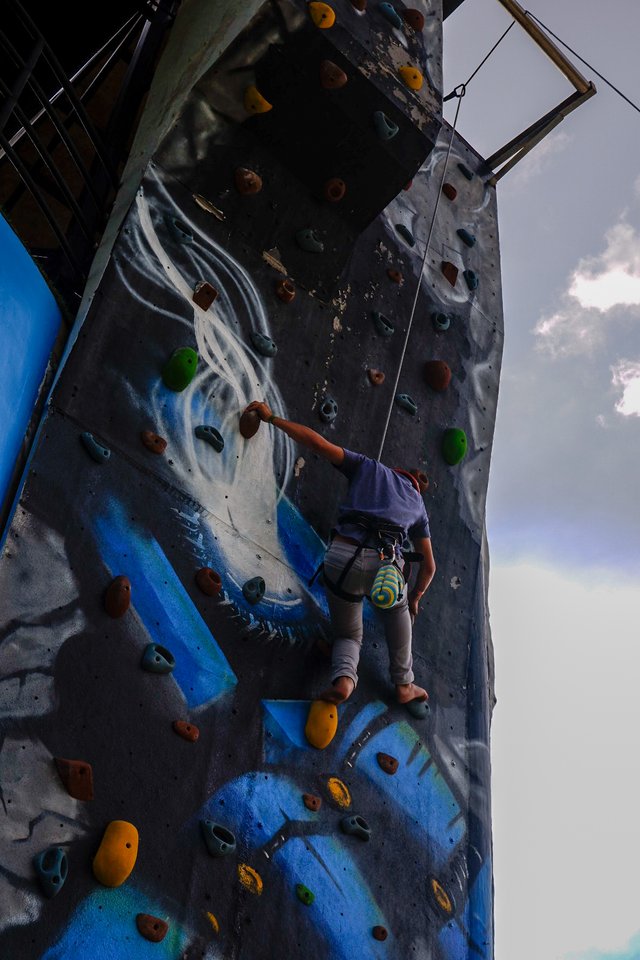 ---
[1/400 secs @ f/8.0, ISO 100, 15.0 mm] | [1/400 secs @ f/8.0, ISO 100, 30.5 mm]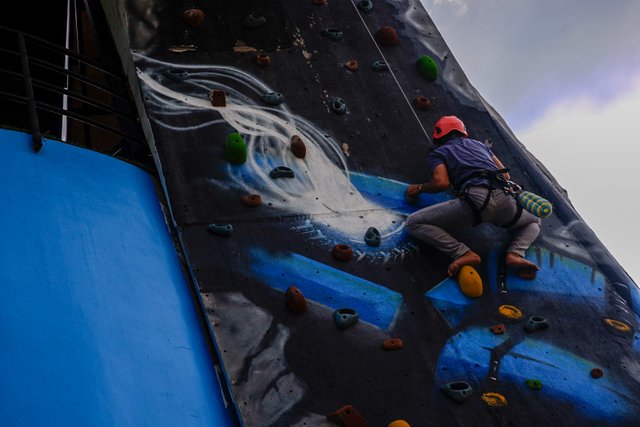 [1/400 secs @ f/8.0, ISO 100, 31.4 mm]
That was one hell of an experience! My whole body seemed to be throbbing after. I knew I would have sore muscles at the end of the day. I realized that my core muscles are so weak because I seemed to have exerted more effort in transitioning my weight in my upper body to my lower body. I realized I should work on that next.
High Ropes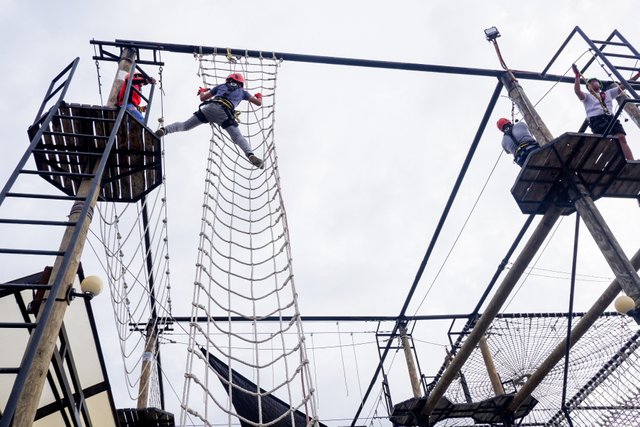 [1/400 secs @ f/8.0, ISO 500, 20.3 mm]
I was excited for the high ropes because of its height. While it's really safe and I am not afraid of heights, being on top while trying to overcome those obstacles is not easy. The wind added the thrill since the updraft in the whole place is a little stronger.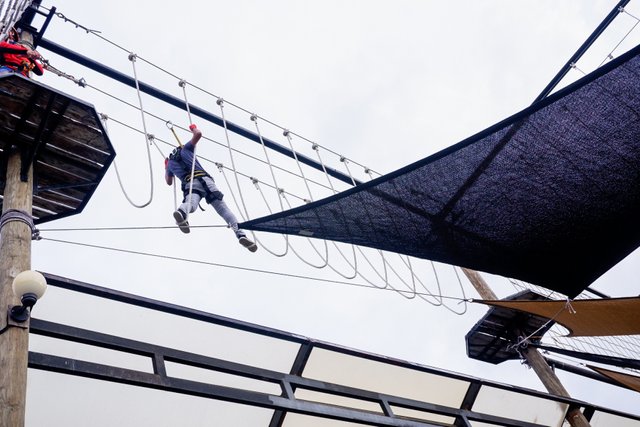 [1/400 secs @ f/8.0, ISO 500, 24.2 mm]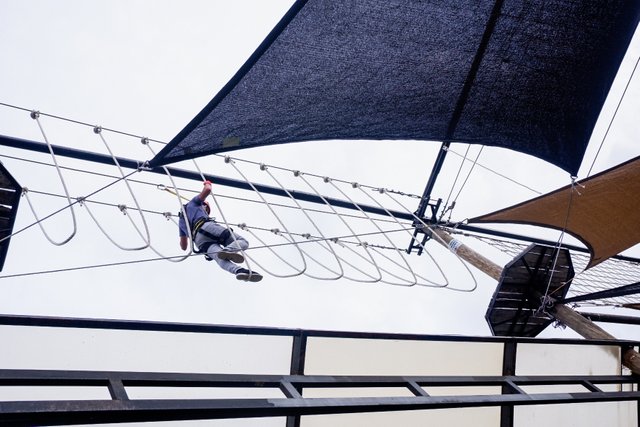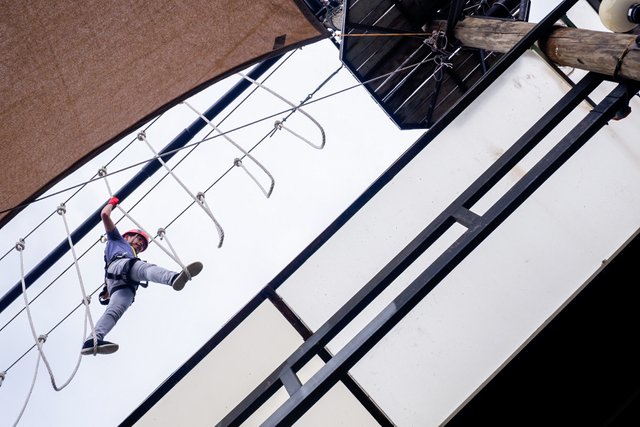 [1/400 secs @ f/8.0, ISO 500, 24.2 mm] | [1/400 secs @ f/8.0, ISO 500, 28.0 mm]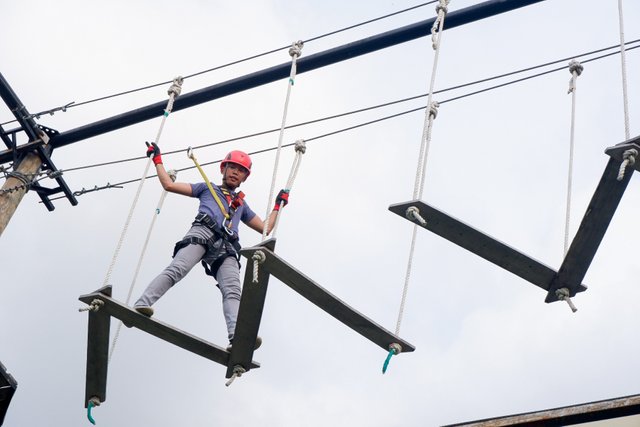 [1/400 secs @ f/8.0, ISO 500, 44.5 mm]
It was fun at first, but I realized I had to focus when I was in the middle of the swinging ropes. It was not really easy and I had to exert more effort in order to continue to the next level.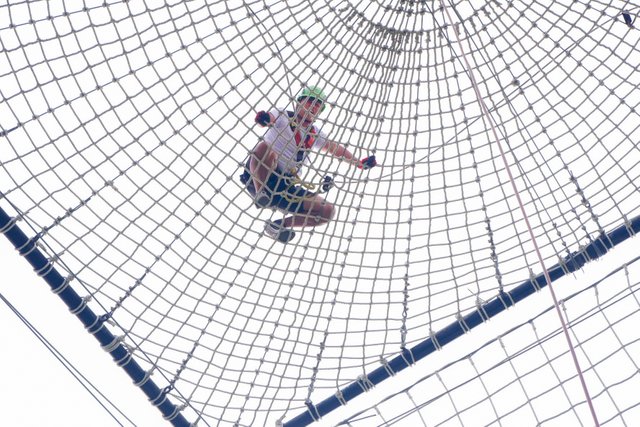 [1/400 secs @ f/8.0, ISO 500, 44.5 mm]
The end goal was to reach that spider web on top of the structures. The breeze on top was refreshing. A little bit of rest after that struggle for balance was needed so I stayed longer in the spider web to rest before going down to have some refreshments. Larry's Hill have some snacks and drinks available, but they're somewhat pricey compared to the ones in the city.
Maze Adventure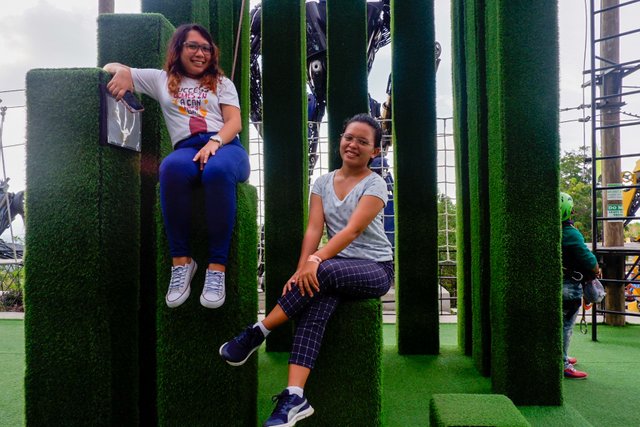 [1/400 secs @ f/8.0, ISO 1000, 16.6 mm]
The green structures that were seated by Rina Mae (my sister) and Valerie (her friend) are the vertical maze. It sort of tests your fear of heights. As the structure forms a square, the height of each pillar increases. You can choose to conquer it freehand or with harness for support. I haven't tried that one because I thought that was easy.
I haven't tried the Ball Pit since all who played that time were children. It would be too awkward if one adult would enter the pit and play with those lovely little ones. The zip line was not open that time because it was under maintenance. Overall, Larry's Hill is highly recommended for those who love the thrill and adventure.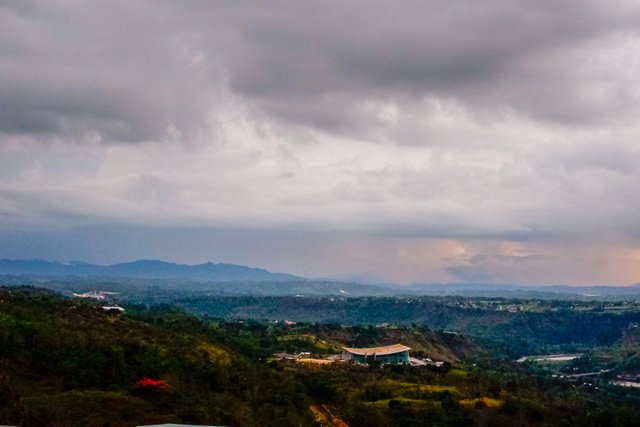 [1/400 secs @ f/8.0, ISO 3200, 34.3 mm]
I guess that's all for this post. I hope you'll like it. If you do, leave a comment down below and show some love. I also hope that you'll support my new and upcoming series. It will be about Cebu and my next post would probably be the formal introduction and the first feature of that series. Stay tuned, folks!
---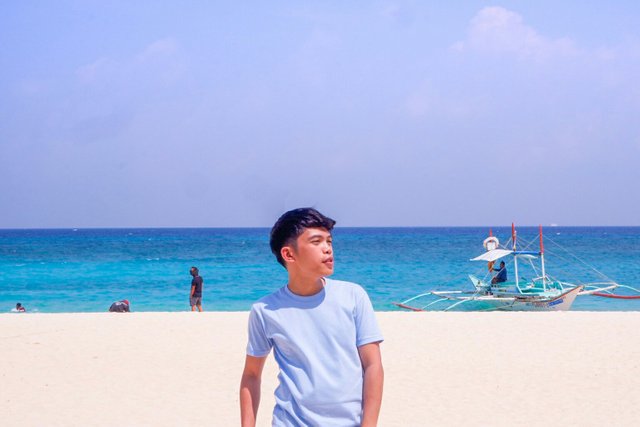 Kim Ybañez
Welcome to Kim's small corner in the Steem blockchain. He is a chemical engineer by profession, but a blogger by passion. He is a wanderlust and an adventure seeker. Join his quests as he visits secluded destinations, climbs mountains, tries new and exotic dishes, and explores his country (The Philippines) and the rest of the world (it will just follow since he's still a poor, corporate slave with tons of bills to pay and two siblings to support in college).