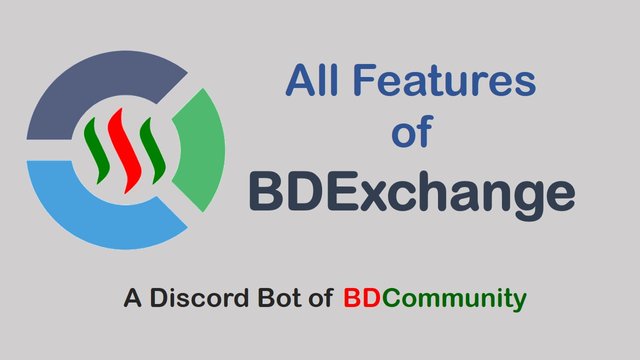 Exchange: the common transactions users used to do several times in a day. BDExchange provides features which easy to work for users to do all type of exchanges.
BDExchange is another discord Bot of our BDCommunity. Developed by @reazuliqbal. It has various features which give lots of support to making transactions easily in short time. I don't even need to go to the browser without publishing my posts. My all work I can do by the BDExchange.
BDExchange premium version has new features brings more advantage for members with previous facilities. Here is the 2nd part.
Part 2: Steem/SBD Exchange :
..price <amount> <currency>
With this command, you can check any amount of STEEM/SBD/BTC/ETH/ETC/LTC/EOS/DOGE/TRX/BAT/BTS's price in USD and BDT (Bangladesh's currency).

Example: ..price 1 eos

Example: ..price 1 steem
Convert Steem to SBD and vice versa:
..convert <amount> <currency>
Convert any amount of Steem to SBD and SBD to Steem with the best rate available in the market. Here SteemConnect link may not work for convert, as SteemConnet updated with beta. By giving active permission to BDExchange the transaction will successfully be done in seconds.

Developer @reazuliqbal is checking the feature of non-active permission

I converted my 100 steem with active permission.
Now users can make a secure transaction. BDExchange providing safe deal between two parties by manual escrow system. Here are the details :
..exchange <amount> <currency> <username>
By the command, the seller will send his Steem/SBD to BDX. Then bot will match the transaction details from blockchain and save the amount. Buyer will send money and Seller will confirm that he received the correct amount of money.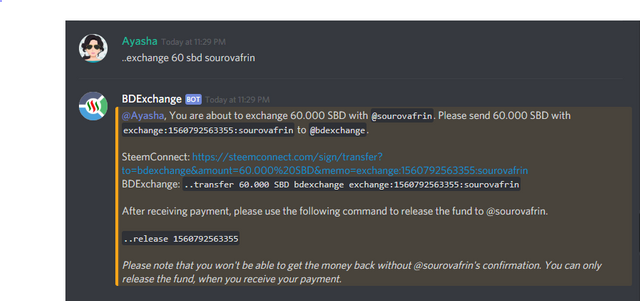 Ayasha is exchanging 60 SBD with @sourovafrin using the manual escrow system.
..release <ESCROWID>
When both parties will make sure payment is clear, the seller will put release command provided by the bot in the previous reply.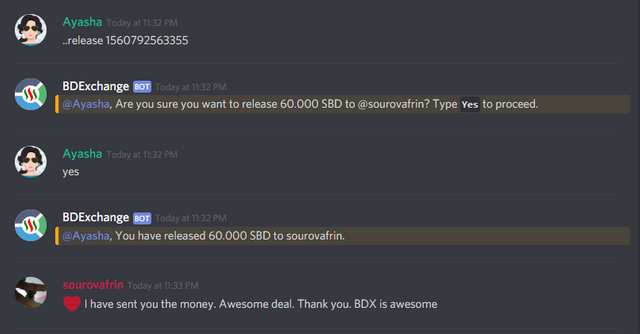 All Done! For any inconvenience happen under dealing, our Officials are always there.
---
BDExchange Services overview
Steem/SBD exchange
• Check price
• Covert steem to sbd and vice versa.
• Exchange Steem/SBD (a manual escrow system for safe deal.)

Users Management
• Check balance
• Delegate sp to users
• Check delegations In and Out both
• Transfer balance to an account.

Account creation service with a small fee of 1 Steem only

Steem Engine Transactions
• Check SE balance
• Buy tokens from SE
• Sell tokens on SE
• Check open orders
• Cancel orders
• Deposit on SE
• Withdraw from SE
• Check Prices of token
• Check metrics
• SE balance transfer
If you have any suggestions or if any inconveniences happen, feel free to ask the developer reazuliqbal#1149.
---

@bdcommunity is an initiative on the steem blockchain trying to help all Bangladeshi standard authors and share their work and knowledge, to improve their skills. We curate grade contents to encourage hard-work and support originality. We are also arranging contest among Bangladeshi steemians and rewarding selected quality work. We also feature important updates from Steem Inc. and witnesses.
We believe an organized and effective communication within the community can determine the success. So we build up the communication on our Discord server and happy to show off our various features of the bot. On there you just need to pass command for check out your account information, balance, market rate and also you can exchange coin, buy upvote, transfer balance through the registration of bdexchange.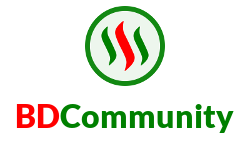 JOIN US ON
Hopefully, our community program will make a significant contribution!
Love from Bangladesh!!