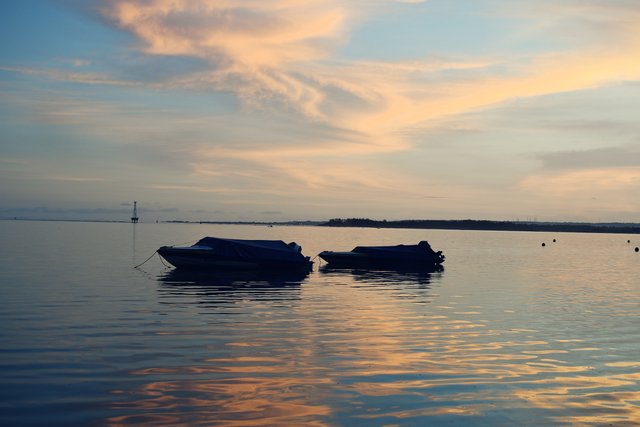 We recently moved from Ubud to Sanur so we could get away from crazy traffic and a scene that wasn't for us. We decided to treat ourselves to a few days in a more luxiourious place before we went to another
low cost backpackers studio for the rest of our stay in Bali.

Yesterday on our first morning there. we walked back to the other side where we had been staying. There is a large grocery store there where I can get more variety of things.

When we entered the lobby in front of the store, we were approached by a Balinese man with a stack of what looked like coupon cards. He handed us one each and said it was a prize coupon and there was no purchase required. He assured us we would not have to spend money. He said it was to promote tourism since it is quiet right now. He told us when we open the card we will discover our prize.

Marc got around 30 dollars (Canadian)in a gift card for the store we were going to go into. The guy was excited for us. When I opened mine I saw in big font FIRST PRIZE. There was a scratch circle that was to be scratch to reveal which of the three guaranteed prizes listed on the card that I would recieve.

1 Seven nights at a luxury resort.

2 A go pro camera

3 Two hundred (Canadian)

At this point we were wondering what the catch was. The guy seemed sincere and assured us that this is legitimate and we are going to recieve the prize. Marc's prize was the gift card and mine would be revealed after we go to his boss and see him.

I am ashamed to say that we were so naive even after all the traveling we have done, to almost believe him enough to say ok let's go see your boss so we can collect our prize.

We followed him to a desk in the store where we thought he would call his boss but he said he is in a hotel resort and we have to go there to see him and look at the resort to show interest so he could be rewarded one hundred dollars for bringing us there. We went along and told him we are not spending any money no matter what.

We got into a car with a driver and started driving. When we were down the street I asked him how far the hotel is, and he told me it will only take twenty five minutes to get to Jimbaran.

I said "what!!!!!" that isn't in town. Now he started talking and telling us it's no big deal. We just have to see his boss, look around the resort, tell him it is great and that's all. He told us not to say that we are backpackers and that we are on a two week vacation before we go back to work.

We were not happy at this point but for the sake of seeing if this was for real, if we were getting our prize and making him a hundred dollars, we kept going and decided to go along with the charade.

As we approached the resort he said make sure you stay at least one hour or he won't get paid. Our hearts sunk with dissapointment. We were in too deep at this point so we went inside. We saw a lady at a desk, she asked us questions which she typed in the computer. Soon an American came to greet us and at this point I could detect a timeshare thing going on. He assured us that it was not.

He presented us a bunch of information and asked extensive questions in a very cryptic way. After well over one hour we were taken to the two villas to look around.

We promised the Balinese guy that we would say how great is was so we did all that. It actually was incredible.

We had to go back to the conference room where there were others going through the same drill. Finally another saleman we had been introduced to earlier, came over to finalized things. Why him I don't know. He told us some more jargon and asked us if we had questions. I asked him to cut to the chase and tell us how much this club membership would cost.

He still wouldn't tell us. After listening to even more and more jargon, he finally gave us the figure for a membership to recieve discounts on their villas around the world for the next ten years. The total was twenty five grand. I said sorry no. He said there is a lesser plan for thirteen thousand five hundred and that thirteen hundred fifly could be paid monthly.

We wanted to run out but I didn't want to spoil the chance for the first guy to get his hundred dollars. I said we will have to think about it. This is when the big final guy got obnoxious and bullied us. telling us in his own words that we were nuts to give up this deal. He was absolutely threatening as he asked"yes or no?"

I told him we don't make commitments like this on the spot. He continued to bully us and say we need to give him an answer. I told him we are saying no then. He was a real jerk before he walked away like a jilted lover.

The original presenter was dissapointed but didn't bully us. He seemed a little more human.

Finally we could escape but not before seeing the lady at the desk to claim our prize. Of course I got seven nights in a luxury resort that they own. My choice of locations. I told them Thailand. She told me to book it two months in advance.

We were surprised to collect the shopping voucher and the vacation voucher but at this point we still didn't know if it was for real.

They called us one of their drivers to take us back to Sanur. We went back to the store and the voucher was excepted. So in the end we got some groceries paid for and possible complimentary stay at a resort, all after an afternoon of boredom frustration and a quite a bit of stress. We will not even try to redeem the voucher.

After this wasted frustrating and slightly frightening afternoon we treated ourselves to some drinks and snacks on the beach at a place called Genius Cafe which we loved for it's atmosphere and vegan options.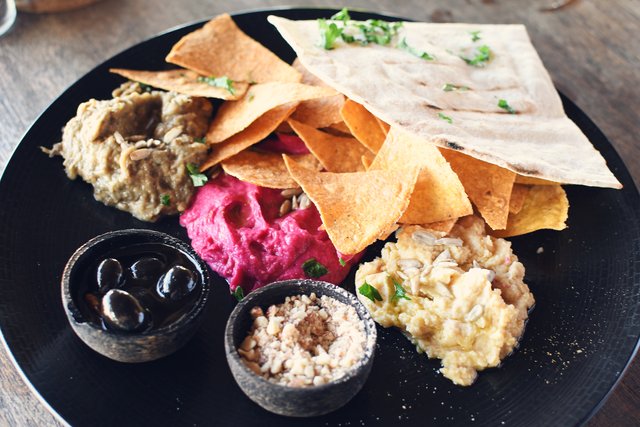 It was an amazing place to people watch.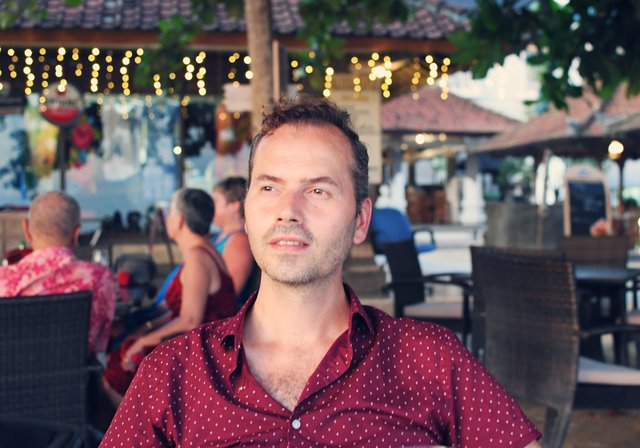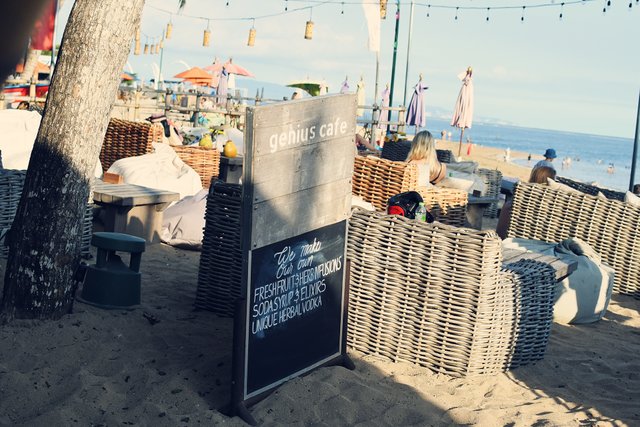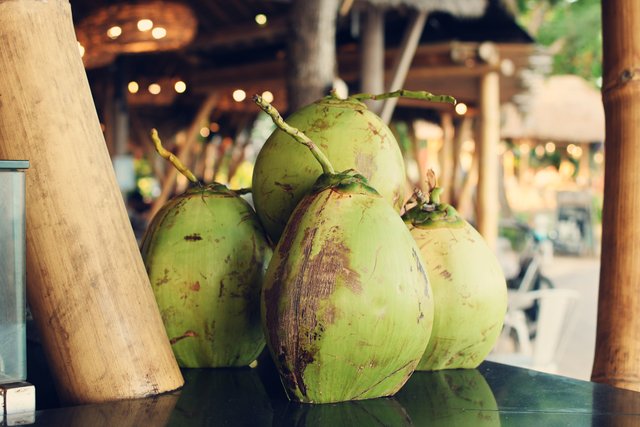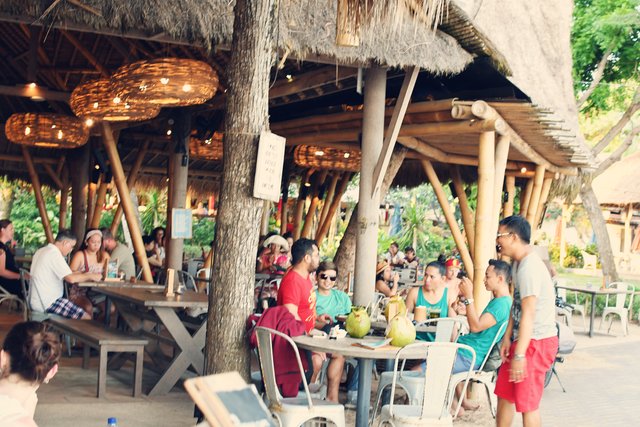 We couldn't tell what was going on but some great latin style dancing was taking place.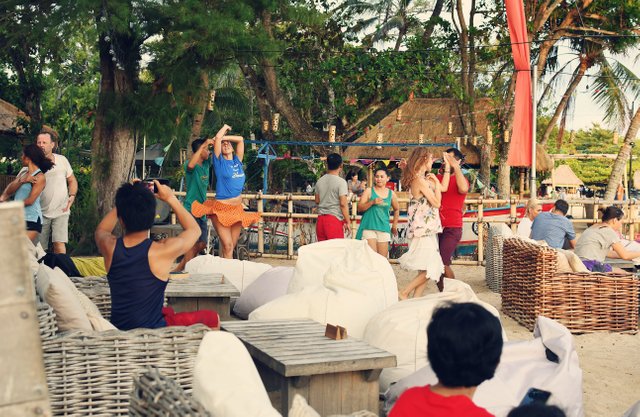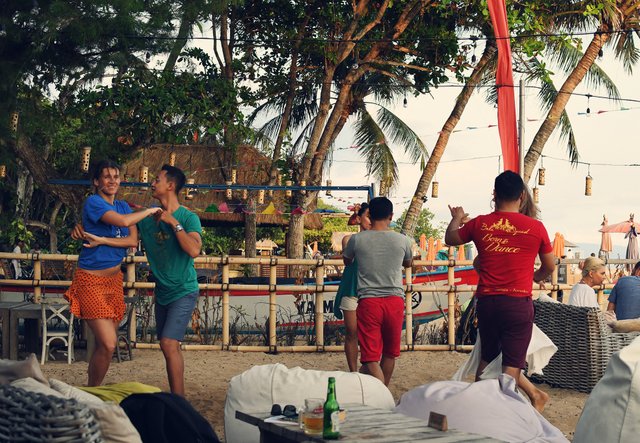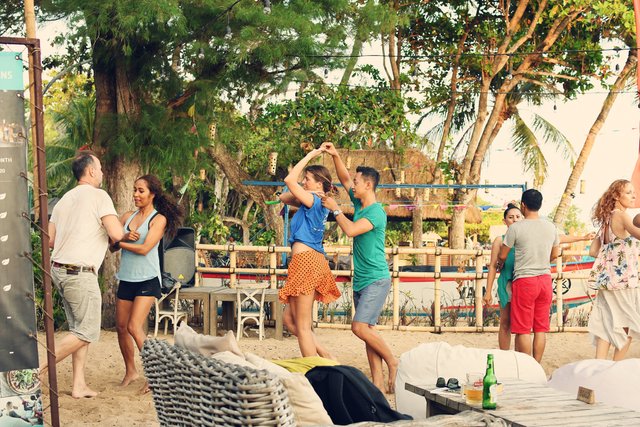 Mother dog walked around in hopes of a snack.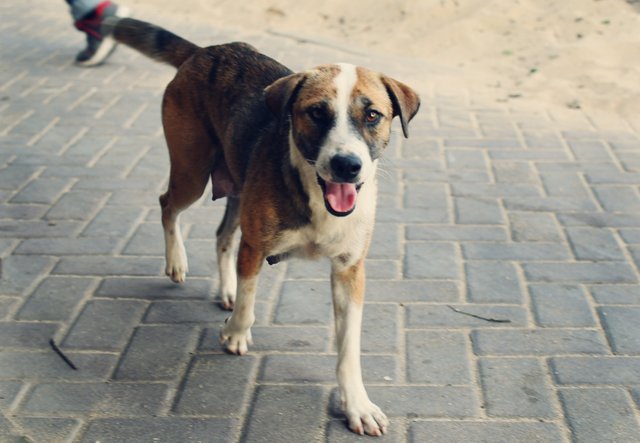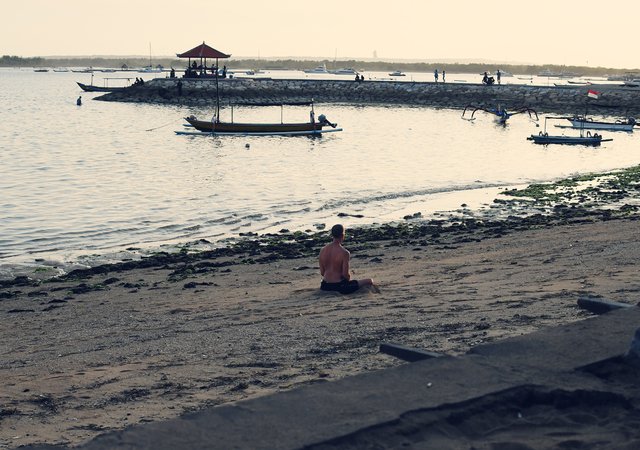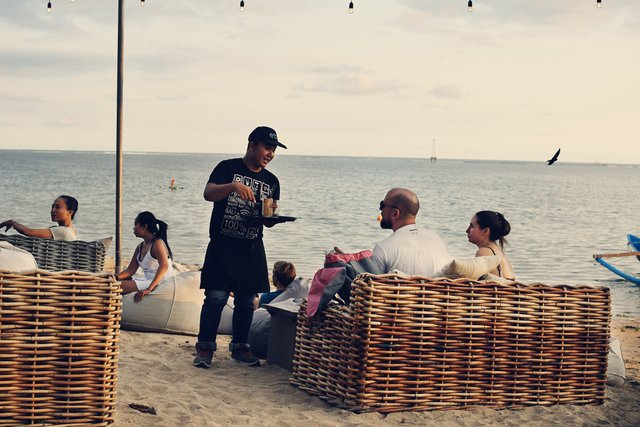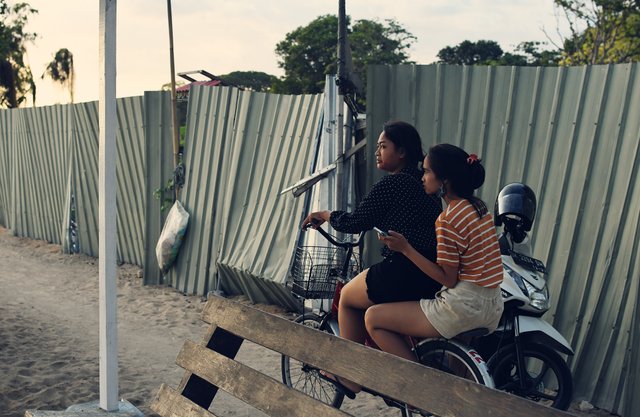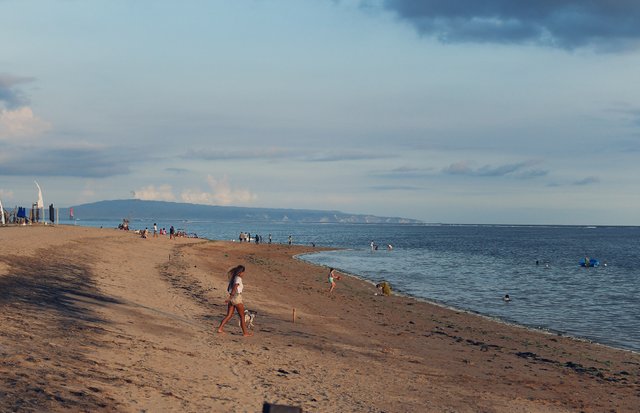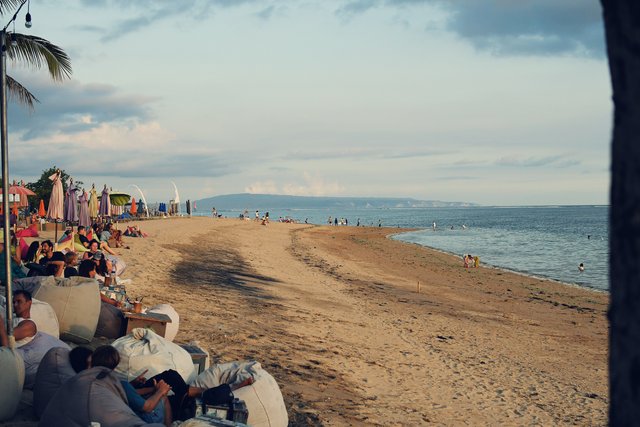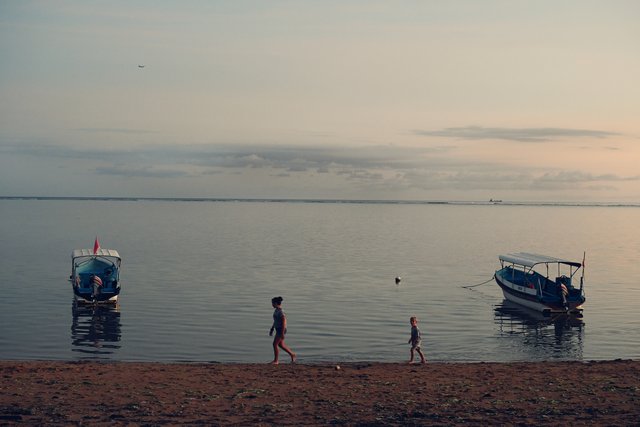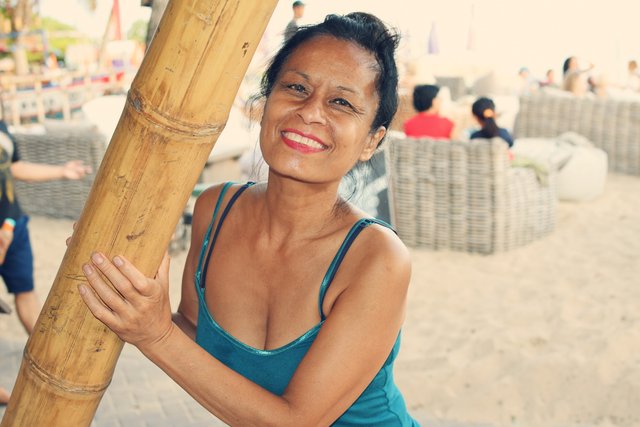 The day is redeemed with the sunset.